Apart from personal trades via the Diplomacy screen you can also anonymously trade resources on the Market. Here you can either turn your spare resources into money or buy resources that you are lacking.

The Market
You can open the Market from the menu below your resource bar. All basic resources can be sold or purchased here.
- Top Offers lists the 4 least expensive offers - both for buying and selling.
- All Offers lists all offers available on the Market.
- My Trades shows the history of all your past trades.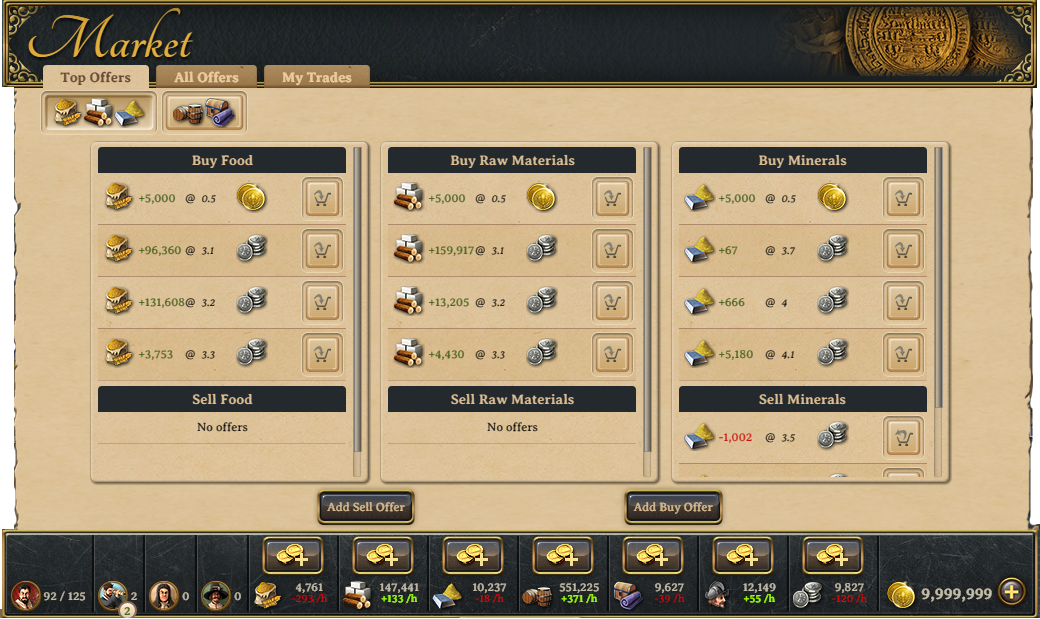 In order to decide which offer to choose, check the quotient after the @ symbol. A quotient of @ 3.0 means that you buy 1,000 of a resource for 3,000 money. The smaller the quotient, the better the offer. You can always buy resources for Ducats at @ 0.5, that is 5,000 of a resource for 2,500 Ducats.
If you want to offer some of your own resources, click on Add Sell Offer. After selecting the resource you want to sell, choose a quantity and determine the price. As soon as you have published the offer, the selected amount of resources will be subtracted from your resource balance. The offer will be displayed as "active" until somebody responds to it or you delete it in "My Trades".
Hint: You can take advantage of the Market dynamics by buying resources for a low price and selling it for a higher price. Embargoing another country or being at war will prevent them from buying from your offers or you buying from theirs.
Go back to:
Diplomacy
Continue reading:
Research