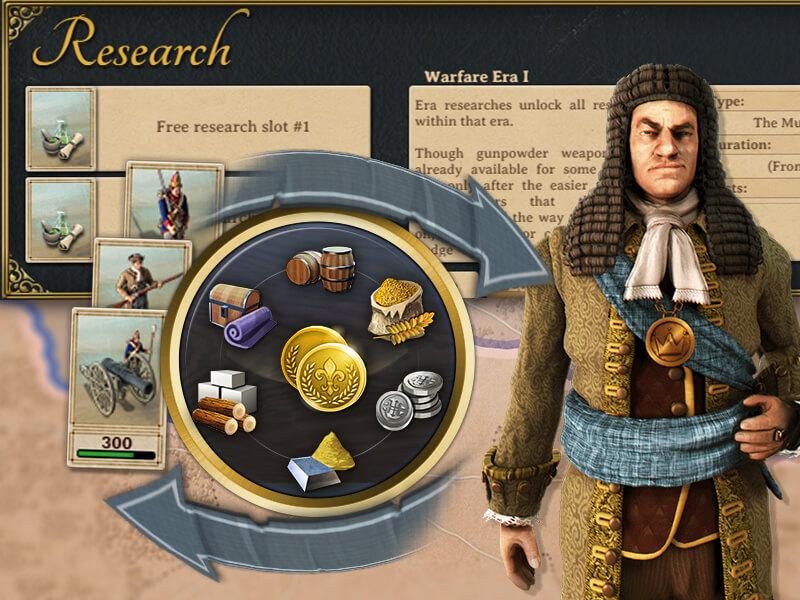 Hello Kings & Queens,
Today's update brought you a lot of balancing changes. We collected data and feedback from your games over the past few weeks and put together a set of balancing changes that will hopefully make the game more fun and get positive feedback from you.
The key points we wanted to address are to make the game:
Faster than it currently is

Less artificially restricted in what you are allowed to do

Easier to get into for unexperienced players

Better balanced in all stages of the game

To achieve this goal, we did the following:
Faster Gameplay
Instead of 6 days, all eras now are only 5 days long. So you can get to the next level of units and upgrades faster. We also decreased the duration of all researches making your progress in the game quicker and
more interesting.
Removed Restrictions
We experienced the civilian unit caps as rather artificial restrictions in gameplay without proper motivation. So we removed them altogether. It is now completely up to you and your available resources, how many
Explorers, Administrators, and Colonists you build and send out. Note that the military units are still capped (the initial cap was increased from 50 to 75).
Easier to Learn
The research as we had it was a bit mixed and it was not so easy to follow a clear line. We have this introduced minimal research dependencies among some units and their related buildings. Together with
a more structured design and better highlighting we think the progress of the units is now visualized better and the dependencies are now clearer than before.
Balancing Changes & New Units
Based on the data and feedback we got, we changed both the building and unit balancing a lot. Especially the units in the Warfare branch got a complete overhaul adding Modern Infantry / Cavalry and Artillery as
extra units for the later Eras. To not flood the game with too many different units and levels, we removed some of the higher levels of the pre-existing troops.
With the First Rate ship of the line we also added an additional late game warship.
We will publish the full list of changes in the next post. Tomorrow during the day we will furthermore distribute some Ducats among the active players since we do know that these are some major balancing changes which do have impact on your strategies. That being said, we expect this to be the last balancing update of this magnitude.
We hope you like the changes and are looking for your feedback.
Your New World Empires Team